UNBOWED ATHEIST
reason the enemy of belief

Unbowed Atheist first appeared as a Demetrios Vakras blog when 10 articles were published on 15 June 2013. These articles can still be found at http://vakras.blogspot.com.au

SLEEP OF REASON BREEDS THEISM

www.unbowedatheist.com/kyrou-atheism-unlawful.html
(7/12/2014)
---
ATHEISM NOW UNLAWFUL
[gelded - re-edited, later]
---
NOTE: CONTENT REMOVED
---

CONTENT REMOVED
In 2014 atheism was rendered unlawful in Australia by judge Emilios Kyrou of the Victorian Supreme Court.
CONTENT REMOVED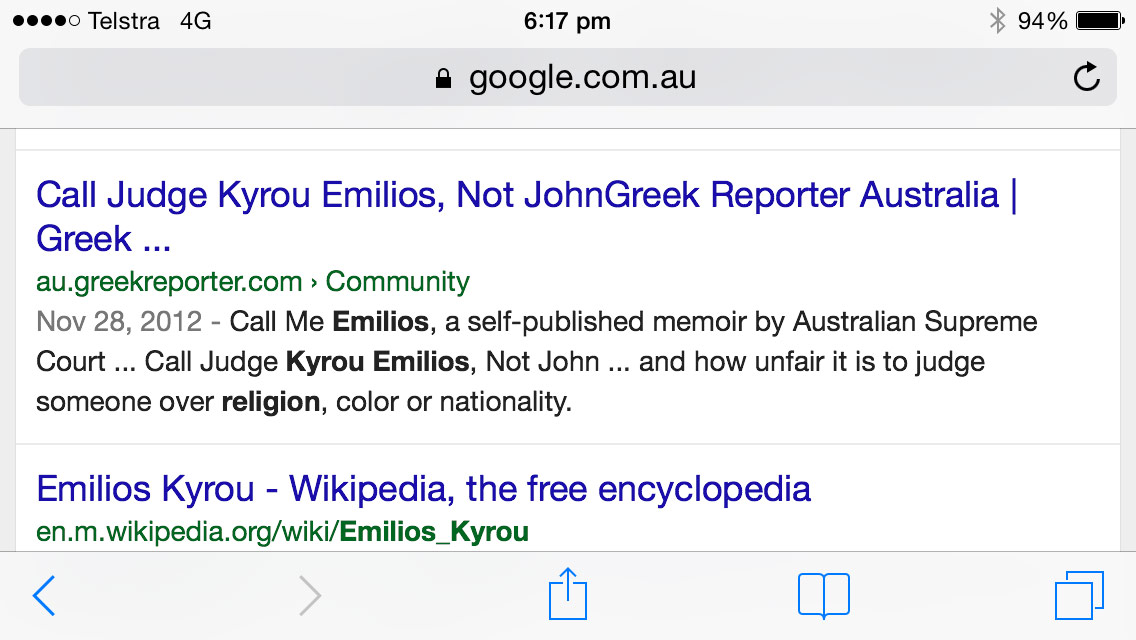 Emilios Kyrou, "unfair" "to judge someone over religion"
CONTENT REMOVED
The case was about what was done to us (artists Demetrios Vakras and Lee-Anne Raymond) because part of our jointly held exhibition of 2009 included commentary critical of religious values. The values expounded in various religious doctrines were quoted and they were decried as hateful and misanthropic. It was argued by us that we should arrive at our values by the application of reason. The religions criticised were Judaism, Christianity, Islam, Zoroastrianism (and Hinduism).
The gallery in which the exhibition titled Humanist Transhumanist was held, was owned by Robert Cripps.
Robert Cripps knows nothing about art because he is not an art historian, knows nothing about art-theory because he has not studied it, and therefore did not understand the art which, compounded by his limited education (3rd year of high school), was too complex for him.
Had Cripps known anything about surrealism, he would have known it was atheist.
Nevertheless, on these strengths, Cripps ran an art gallery simply as a for-profit business (he now runs Ruby's Music Room, an entertainment venue, in Melbourne). Cripps denounced the criticism of Muslim doctrine (the Koran) as "racist". Cripps then sued for "defamation" because we wrote about it.
CONTENT REMOVED
HOW TO PREVENT CRITICISM OF RELIGION
CONTENT REMOVED
There is an ongoing Christian campaign that purports Hitler to be "an atheist". This has been part of the historic revisionism propounded during the Nazi show-trials at Nuremberg. However, Hitler's own statements were unambiguous in their Christianity, and his actions are consistent with the Bible - which was part of the theme of the 2009 exhibition.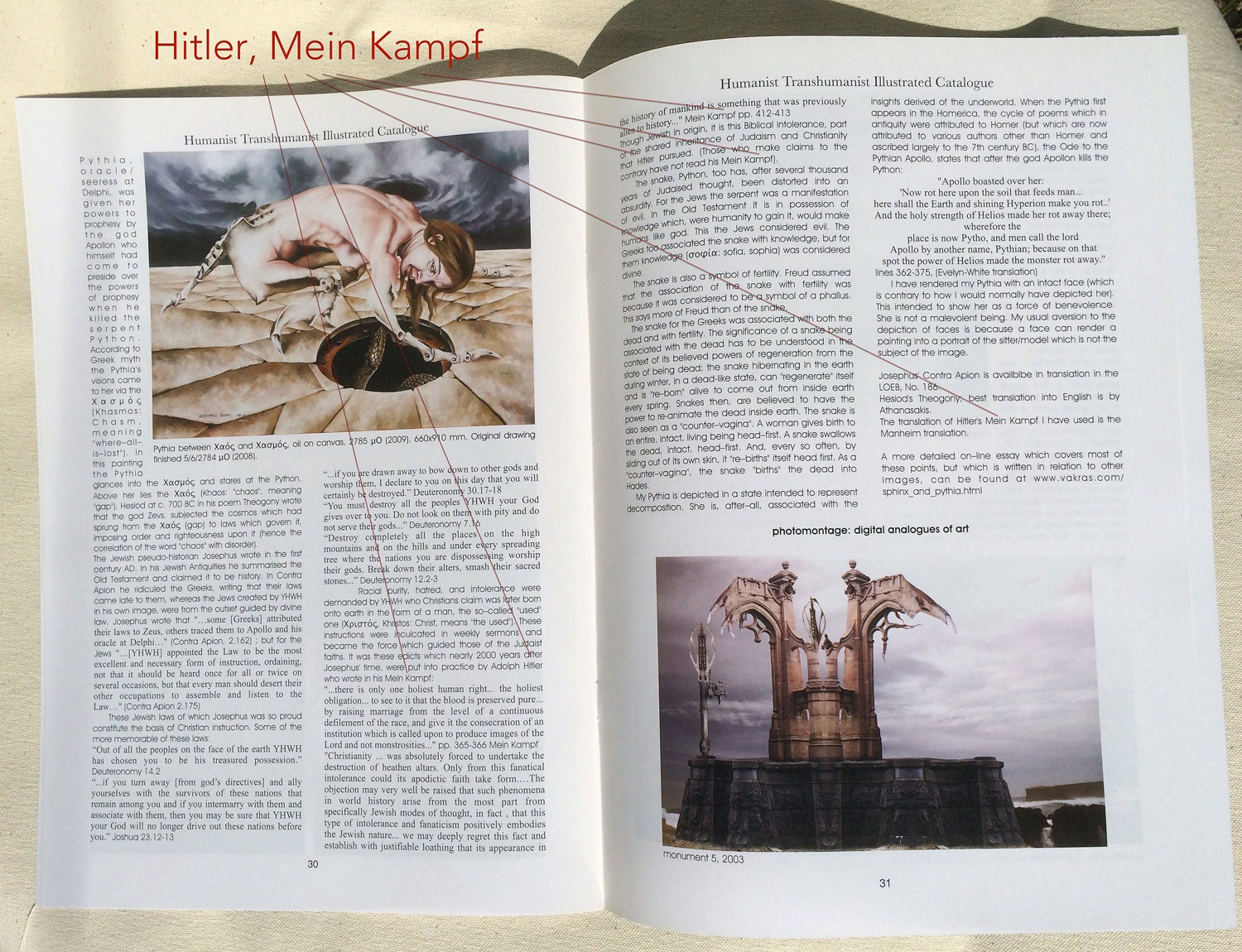 Above, pp. 30-31, Humanist Transhumanist. The racial purity pursued by Adolf Hitler is called for in Deuteronomy. Christianity, specifically the New Testament, gave rise to Hitler's racism, his hatred of Jews. Criticism of this formed part of the theme of religious criticism in the 2009 exhibition. Below, detail of photograph showing painting Pythia between χαός and χασμός in situ, with essay from pp. 30-31 pinned to its right.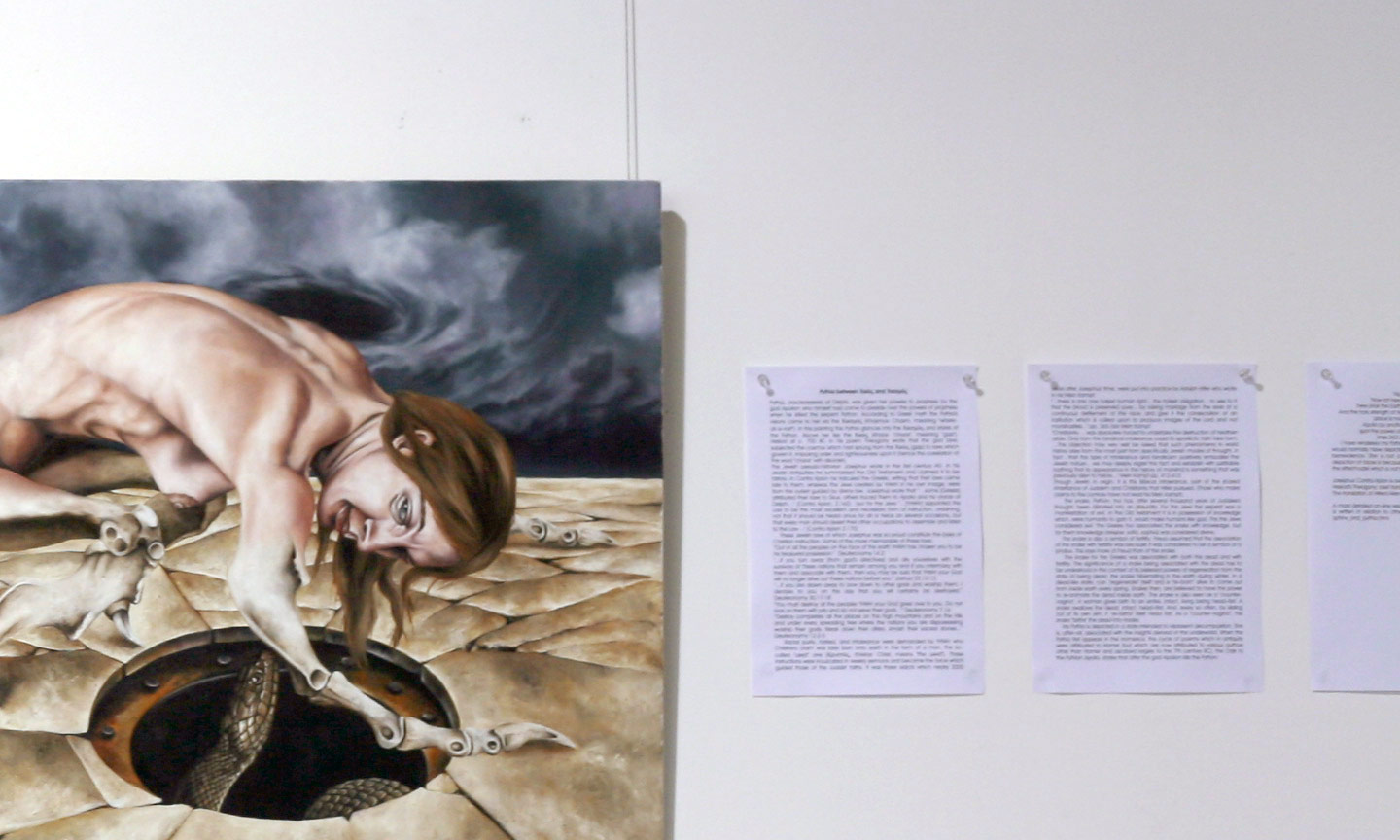 Christianity, the source of Hitler's racism.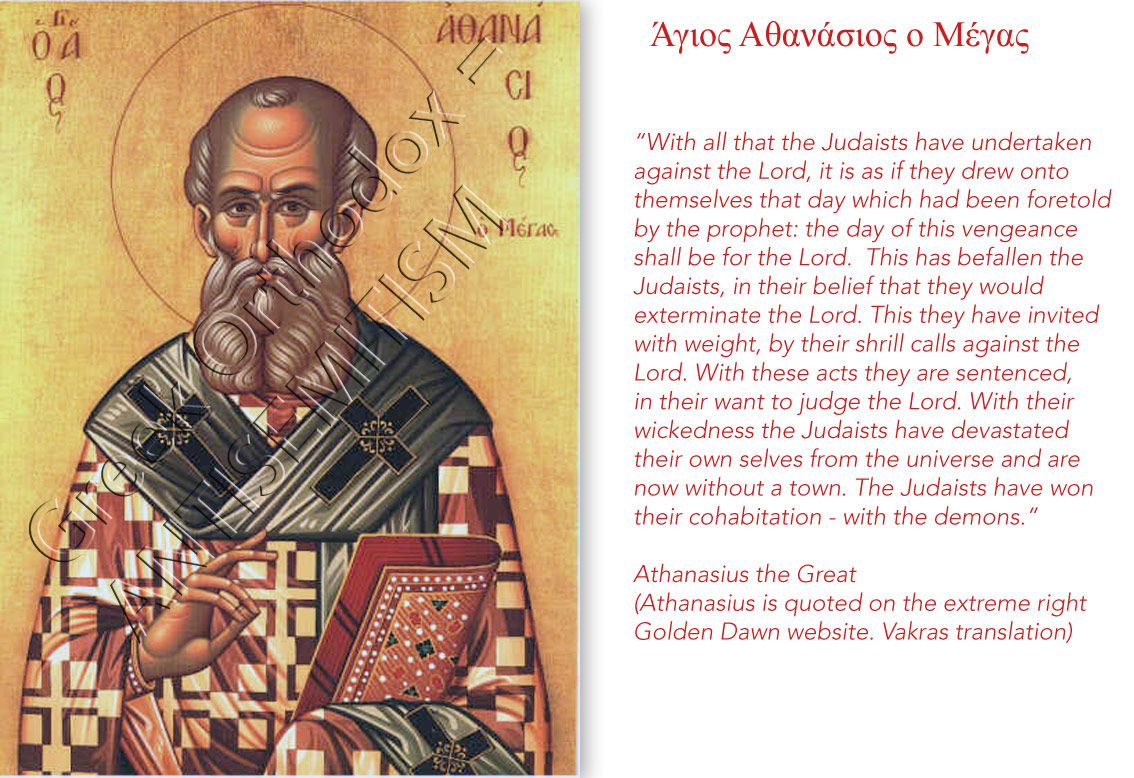 In Greek Orthodox dogma reference to Jews uses the epithet "θεοκτόνος", "god-murderer". Athanasius, revered by Eastern Orthodox Christians, is an antisemite (racist), and characterises Greek Christian racism.
Jews are blamed for the θεοκτονία, deicide.
(Athanasius, c. AD 296–298 – AD 373, is quoted by Golden Dawn in an article on their website dated to April 2014)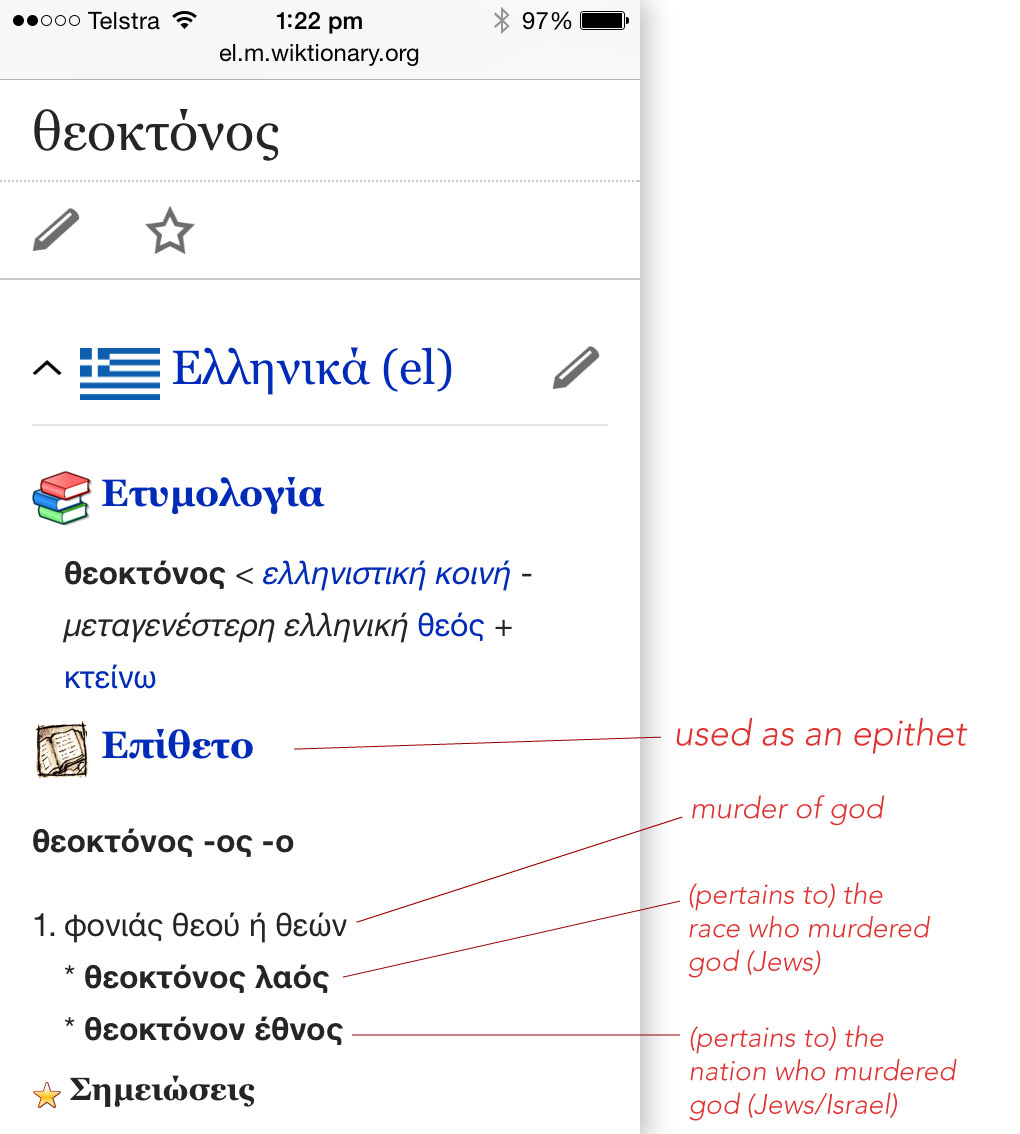 Greek Orthodox dogma employs the epithet "θεοκτόνος", "god-murderer", as a specific reference to Jews.
WARNING! WARNING!
Chrisitan Christological (the nature of Christ) theory follows:
"In the beginning was Λόγος [word/reason], and the Word was with God, and the word was god." John 1.1
"The Word became flesh and lived for a while among us. We have seen his glory, the glory of the one and only, who came from the Father, full of grace and truth." John 1.14
"I and the Father are one." John 10.30
"Again the Jews picked up stones to stone him... 'We are... stoning you... for the blasphemy, because you, a mere man, claim to be God." John 10.31-33
"He [Christ] was shown in outward appearance as a human being, from a human virgin; in hidden reality he was God, from God the Father." Augustine, City of God, Book XVIII, 46, Bettenson translation (Penguin).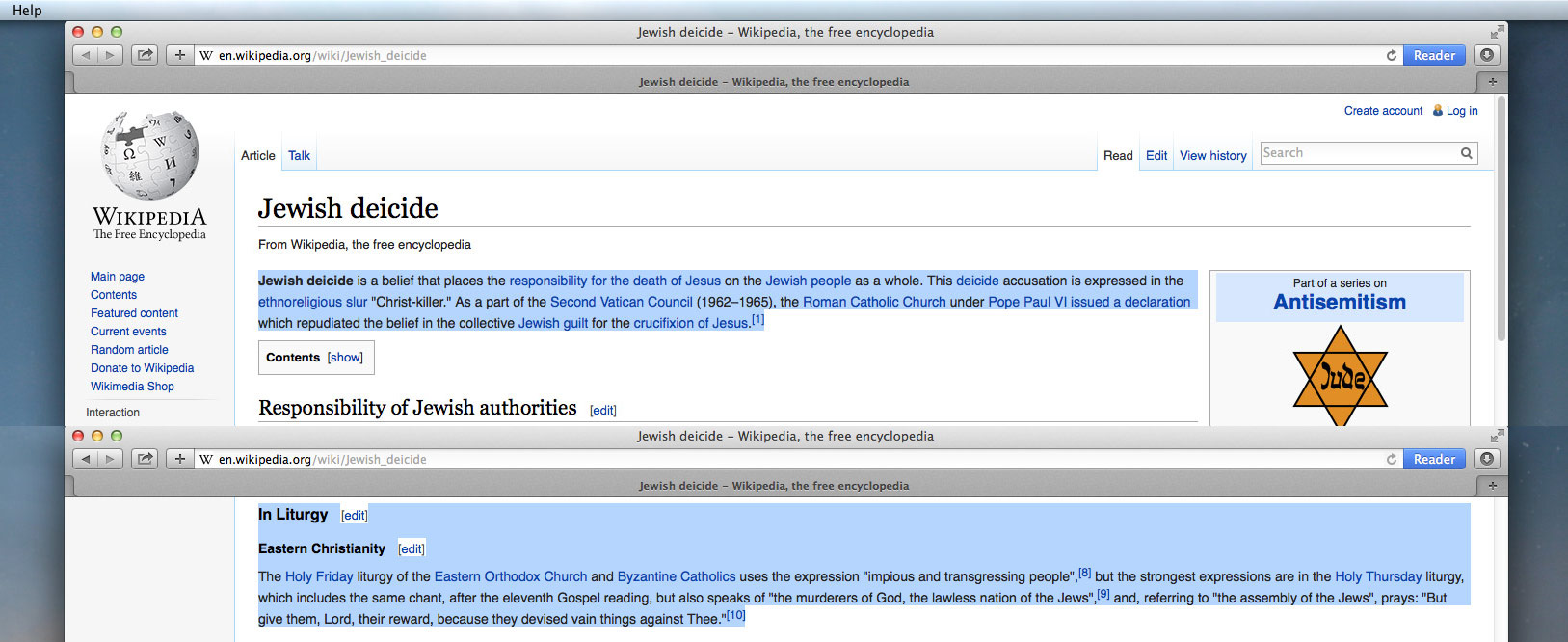 Greek Orthodox Easter Liturgy condemns "the murderers of God, the lawless nation of the Jews".
Greek Othodox religion is unambiguously racist.
CONTENT REMOVED
Antisemitism in Greece

"Antisemitism in Greece manifests itself in religious, political and media discourse.
… [Greece] is overwhelmingly Greek Orthodox Christian by faith. …Orthodox Christianity is enshrined in the Constitution as the dominant faith of the land … The great majority of country's traditional population is Christian Orthodox and religion is an integral part of Greek life. … Greeks find it difficult to conceive that someone can be Greek without being of Greek Orthodox faith."
CONTENT REMOVED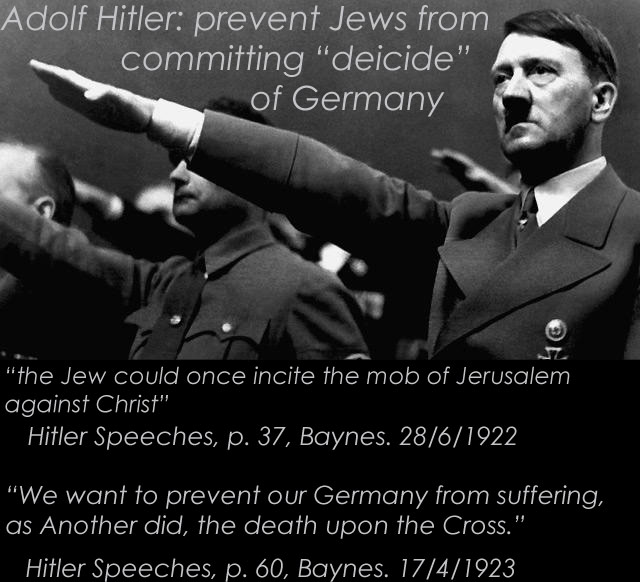 Adolf Hitler hated Jews because Christianity is racist.
Hitler utilised the deicide to incite hatred against Jews. Hitler supported Muslims who on doctrinal grounds similar to the doctrine of Christians, call Jews "prophet killers".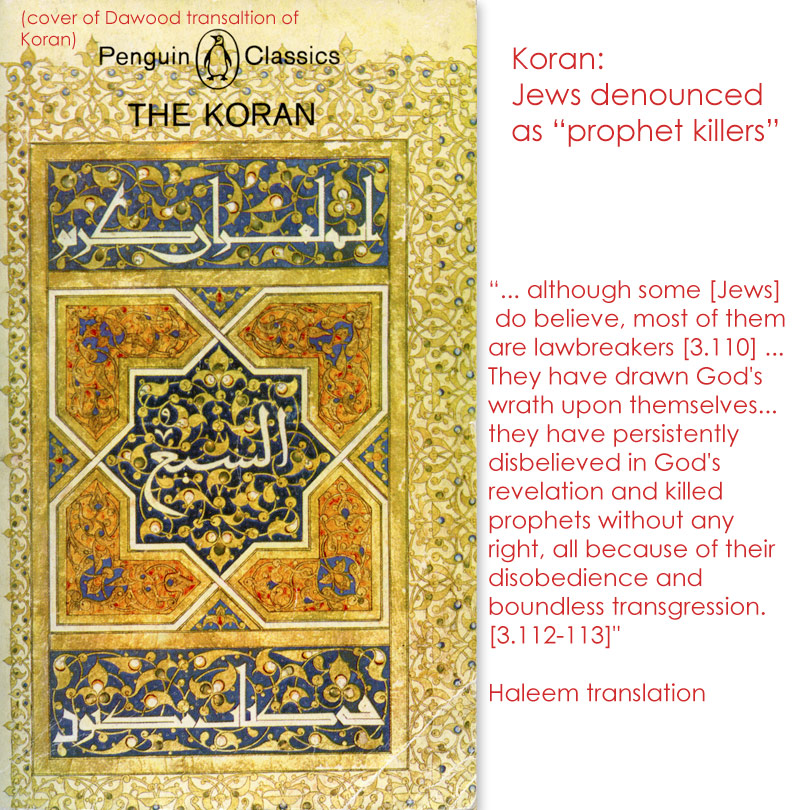 Islamic doctrine incites hatred against Jews by proclaiming Jews to collectively be "prophet killers".
This repeats the ANTISEMITISM of the Bible (New Testament):

"'O Jerusalem, Jerusalem, you who kill the prophets and stone those sent to you...'"
Matthew 23.37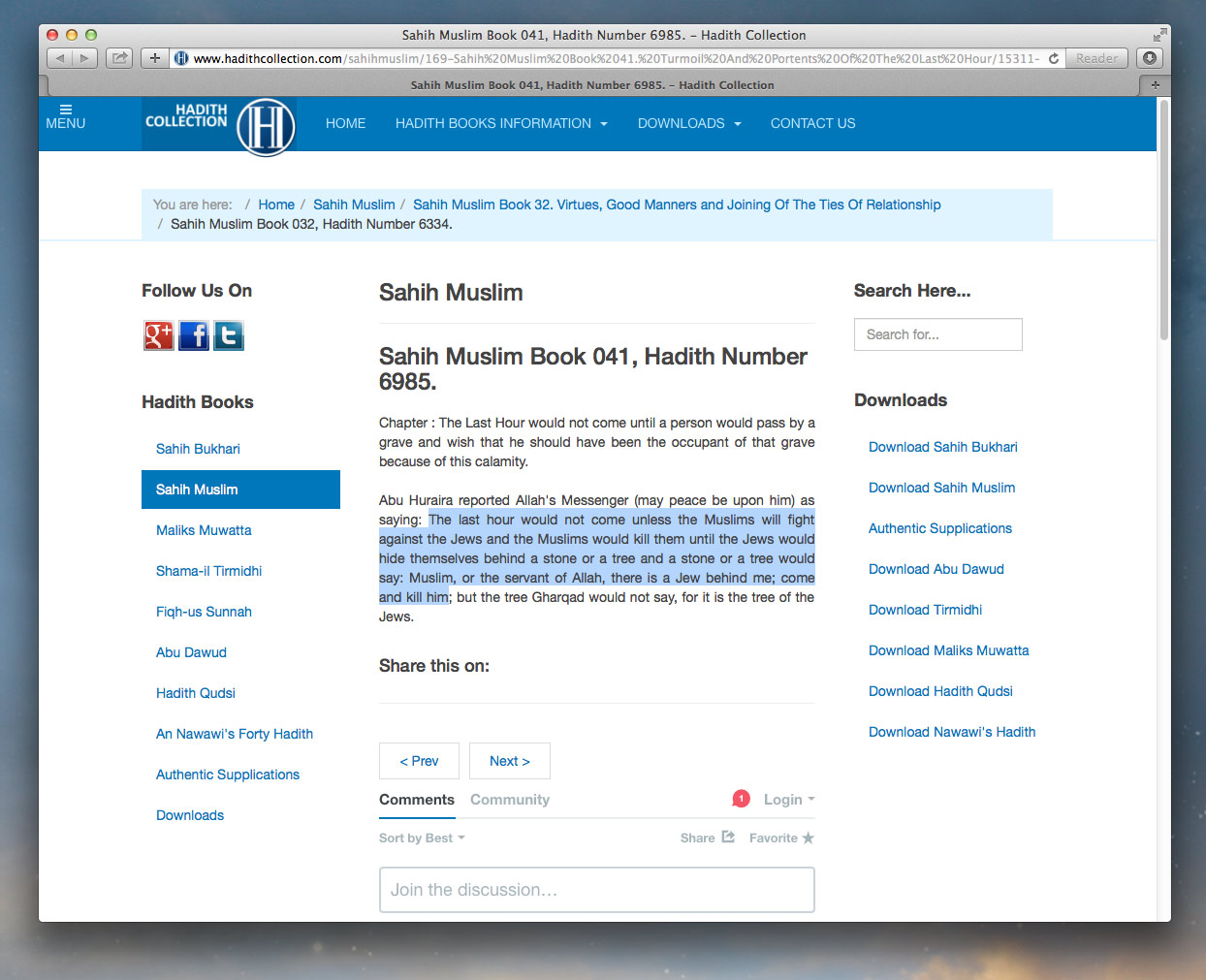 Islamic doctrine (the hadith) calls for the genocide of Jews. Hitler supported Muslims.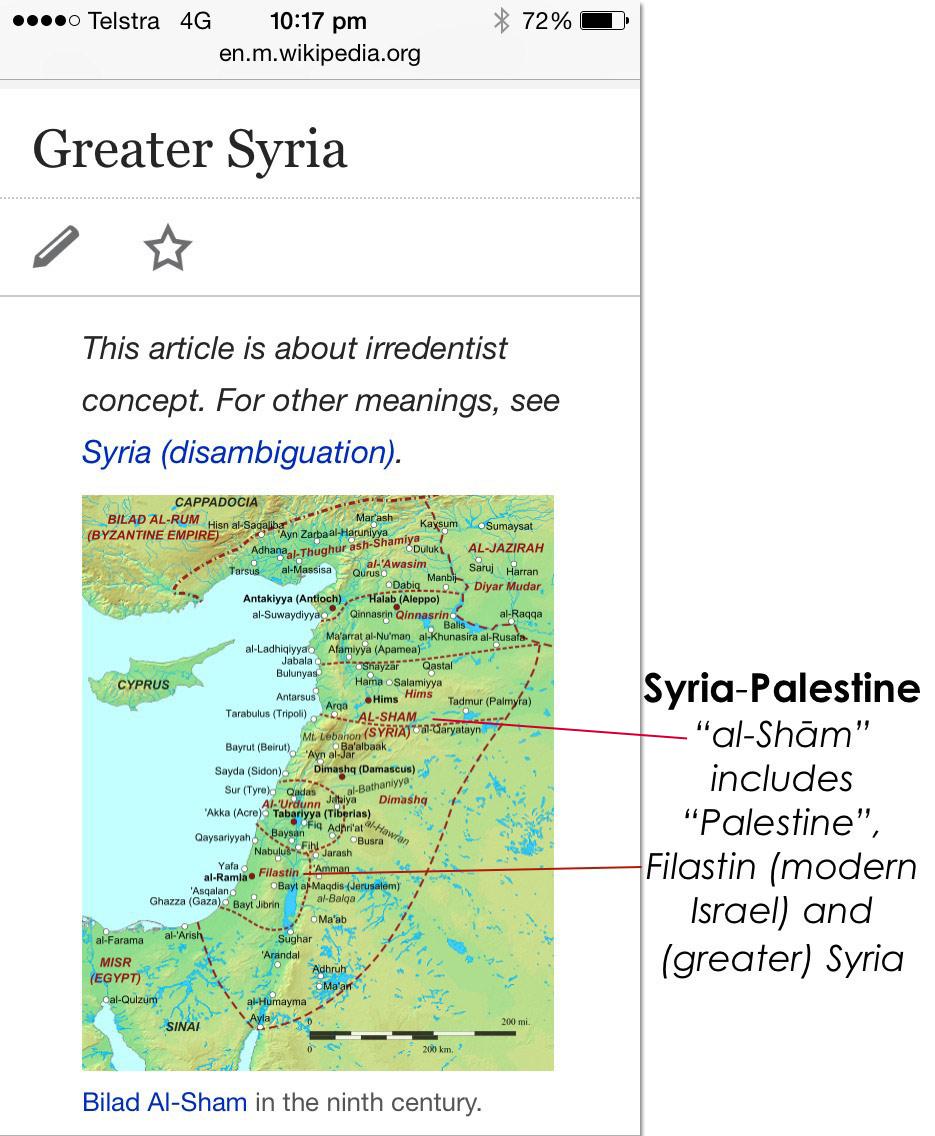 Islamic doctrine (the hadith) proclaims "Palestine" (al Shām) as having been given by god to Muslims (Abu Dawud Book 008, Hadith Number 2477) - hence the war in "Palestine" is a war that has been UNILATERALLY declared, and waged by Islam against Jews. Hitler supported Islam's war and sought to achieve the outcome sought by Islam: the genocide of the Jews.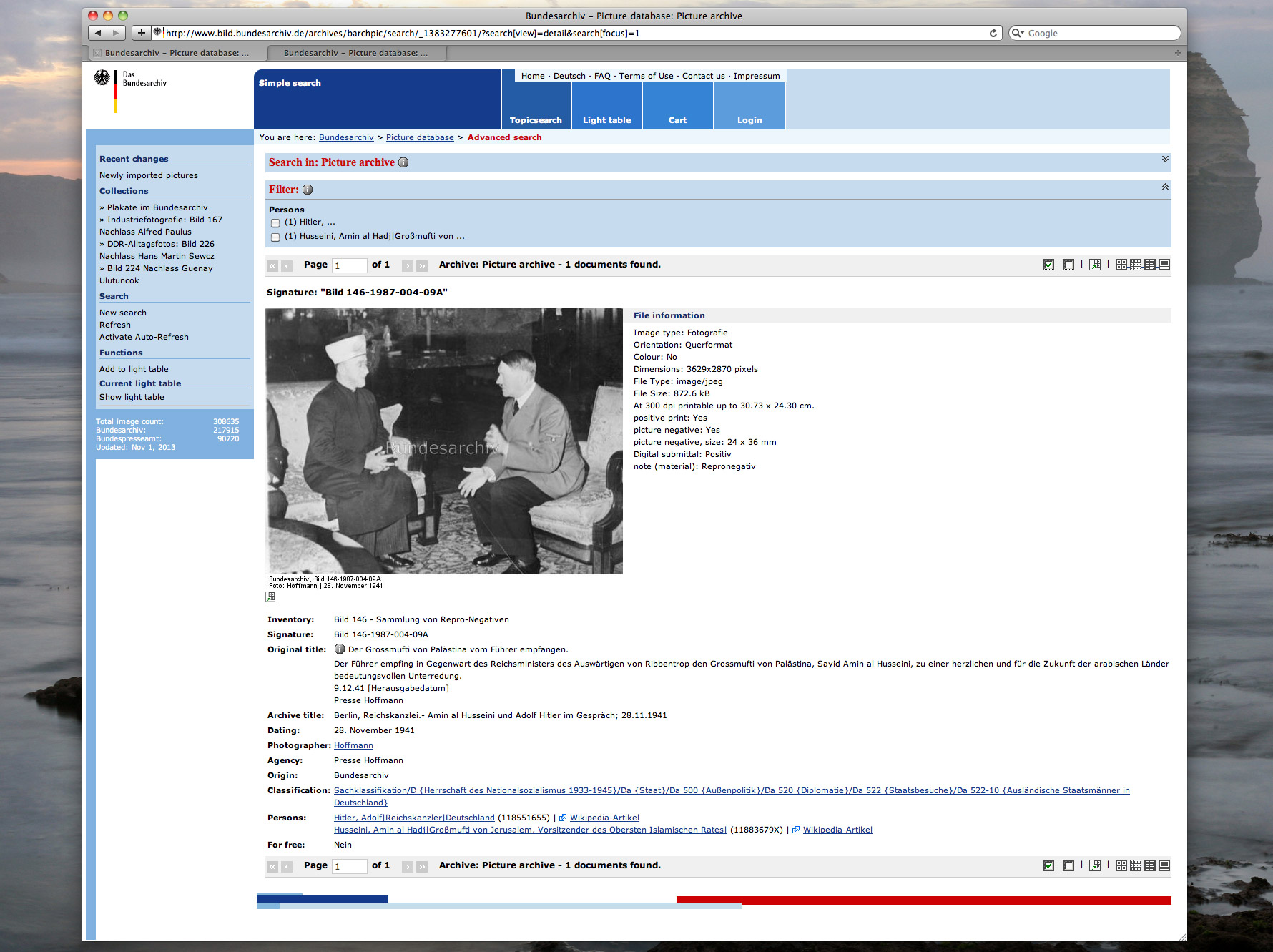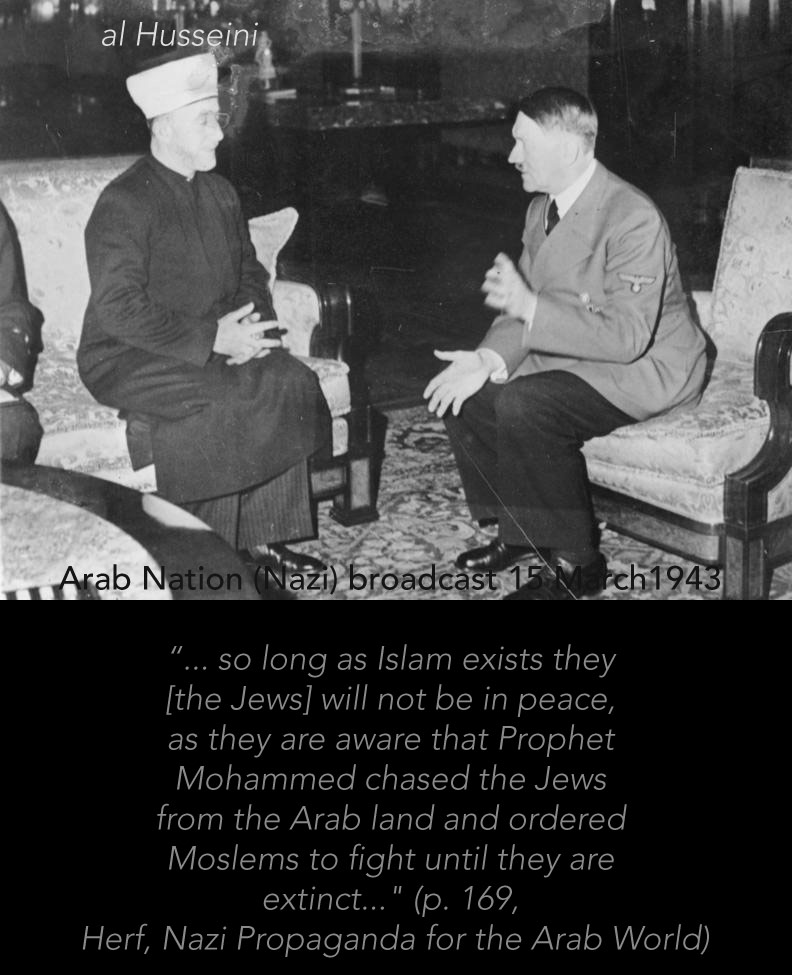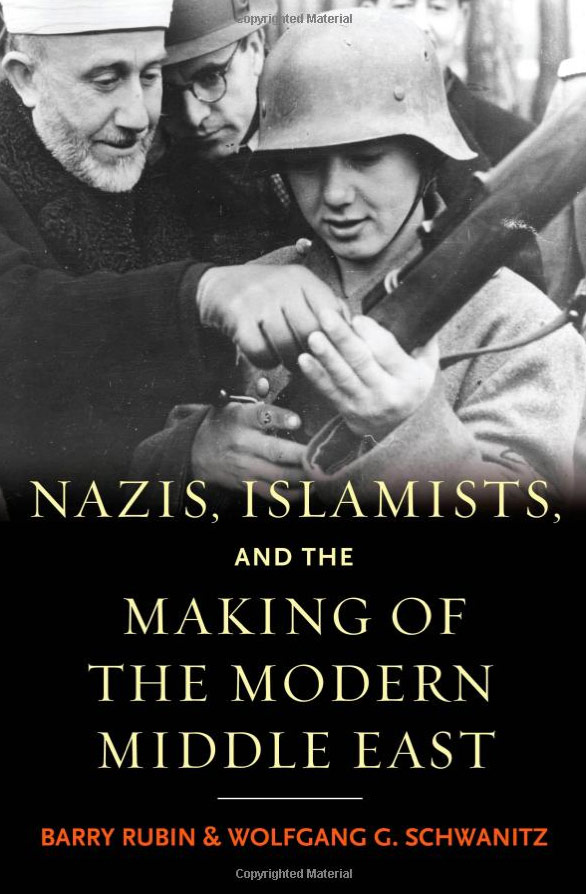 (above, cover of: Nazis, Islamists, and the making of the modern Middle East, Rubin, Schwanitz
PUBLISHED BY YALE UNIVERSITY PRESS )
The "Palestine" cause is known to be a doctrinal call of Islam and that this was supported by Nazis.
CONTENT REMOVED
Kyrou made a pronouncemet that the contents of this email by this author to be "subjective" belief.
CONTENT REMOVED
This is CENSORSHIP that seeks to prevent reference or mention to that which exists, is known to exist, can be referenced by anyone, and is available to anyone.

CONTENT REMOVED
Below, a book about the finding made by Emilios Kyrou written by Israeli author Dov Ivry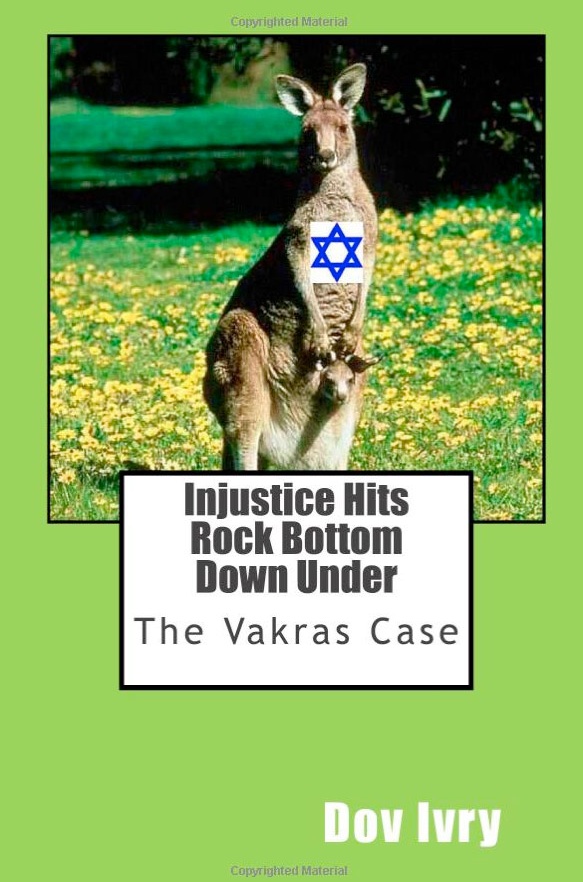 ---
BLASPHEMY RULING IN THE GUISE OF A DEFAMATION FINDING
---
HOW TO RULE AS A CHRISTIAN AGAINST AN ATHEIST
---
---
A belief
is not the equivalent to a logical corollary. And, a logical corollary is not "an opinion". Australia's judiciary conflate these concepts and deem them to be of the same meaning.

---