UNBOWED ATHEIST
reason the enemy of belief

Unbowed Atheist first appeared as a Demetrios Vakras blog when 10 articles were published on 15 June 2013. These articles can still be found at http://vakras.blogspot.com.au

SLEEP OF REASON BREEDS THEISM

www.unbowedatheist.com/blasphemy-ruling-in-guise-of-defamation.html
(7/12/2014)
---
BLASPHEMY RULING IN THE GUISE OF A DEFAMATION FINDING
[gelded - re-edited, later]

---
NOTE: CONTENT REMOVED
---
---
The exhibition Humanist Transhumanist held in 2009 criticised the values of Judaism, Christianity, Islam and Zoroastianism.
It made no reference to, nor did it have anything to do with, "Palestine".
However, Robert Cripps, who ran the gallery the exhibition was held in, took actions against us because he claimed the exhibition was "anti-Palestinian".
This author (myself) and Lee-Anne Raymond were sued by Robert Cripps with him claiming that we had made "injurious falsehoods" about him.
We had to go to court to prove that Cripps supported Palestinians and that Cripps had taken action against us during our exhibition because he did not want material being made available that would absolve Jews from being blamed for conflict in Palestine, which, to reiterate, had nothing to do with the criticism of religious doctrine made in our exhibition.
In court, Cripps, who now runs an entertainment venue (Ruby's Music Room) and is no longer involved in art, admitted that he was against "the Jew's state", that "Muslims react to what Jews do", and that he felt that what was written was "anti-Palestinian". Cripps admitted to the very things he had sued us for which he had claimed were lies written about him. Cripps failed to show how atheist criticism of religion could be seen to be "pro-Jewish".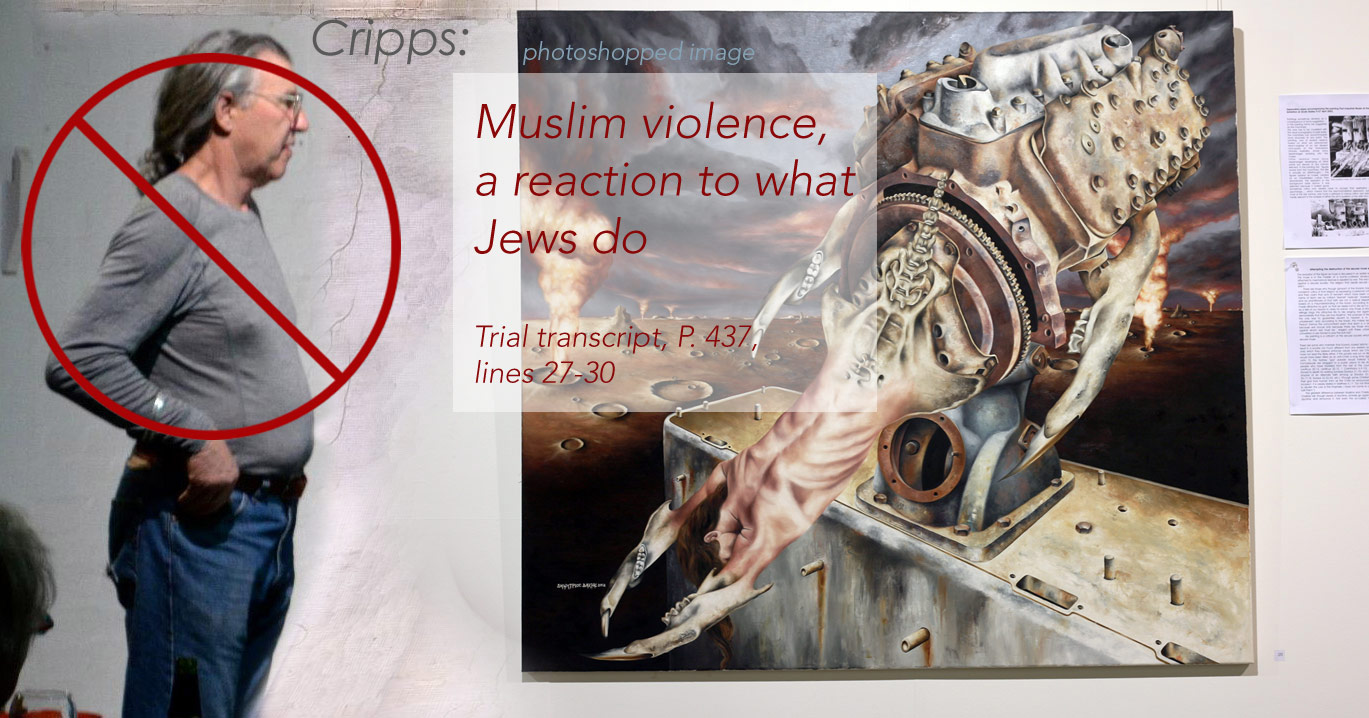 However, despite Cripps' admissions, Emilios Kyrou decided to rule against us.
---
Cripps testimony can be found in the Trial Transcripts which this author has uploaded onto Scribd, or, alternately, on Redleg V Artists
http://www.scribd.com/doc/240239998/Trial-Transcripts-Day-1-8-Cripps-v-Artists-complete
http://www.redlegvartists.com/Trial%20Transcripts%20Day%201-8-%20Cripps%20v%20Artists-redactions.pdf
---
THE FACTS ARE:
1) Al Husseini, "the Mufti", is a Nazi;
2) Al Husseini, is a Muslim Nazi who, as the prime Muslim religious leader of "Palestine" called for attacks on the Jews of "Palestine";
3) Al Husseini was supported by Hitler;
4) The Muslim actions taken against the Jews of Palestine during WW2 were supported by Hitler;
5) Hitler supported the Muslims of Palestine against the Jews;
6) Cripps supported the Muslims of Palestine against the Jews (Cripps admitted in court that problems in Palestine were Muslims reactions to what Jews do and supported Muslim actions against Jews)
7) The Muslim cause in Palestine has its origins with the Nazis
8) Cripps supports a Nazi cause;
Cripps and Hitler are opposed to the Jewish State, Hitler is quoted objecting to a Jewish state in Mein Kampf,
Cripps and Hitler blame conflict on Jews 
Robert Cripps supported and continues to support the Muslim cause in Palestine. The cause in Palestine is Muslim and had its origins with the Nazis.
---
REVISIONISM SEEKING TO ABSOLVE CHRISTIANS OF THE GUILT THEY BEAR FOR THE CRIMES COMMITTED BY HITLER
Revisionism has removed Christianity as the ideology behind Htiler's racism (antisemitism);
This then means that another claim is invented for Hitler's racism, being that Hitler and the Nazis invented "antisemitism".
The Nazis did not invent or create "antisemitism".
A revisionist historical account has come to replace the historical record...:
"The thesis that manifestations of "Antisemitism" in the Third Reich
were largely a result of manipulations by Nazi politicians rather than the
reflection of true sentiments among the German people appears firmly
established nowadays."
Everyday Antisemitism in Pre-War Nazi Germany: The
Popular Bases By Michael H. Kater
http://www.yadvashem.org/odot_pdf/Microsoft%20Word%20-%205618.pdf
And, in replacing Christianity as the motivating force for Hitler's racism, another reason that has nothing to do with Christianity is introduced, being "Aryan supremacism" inspired by Darwinism.
---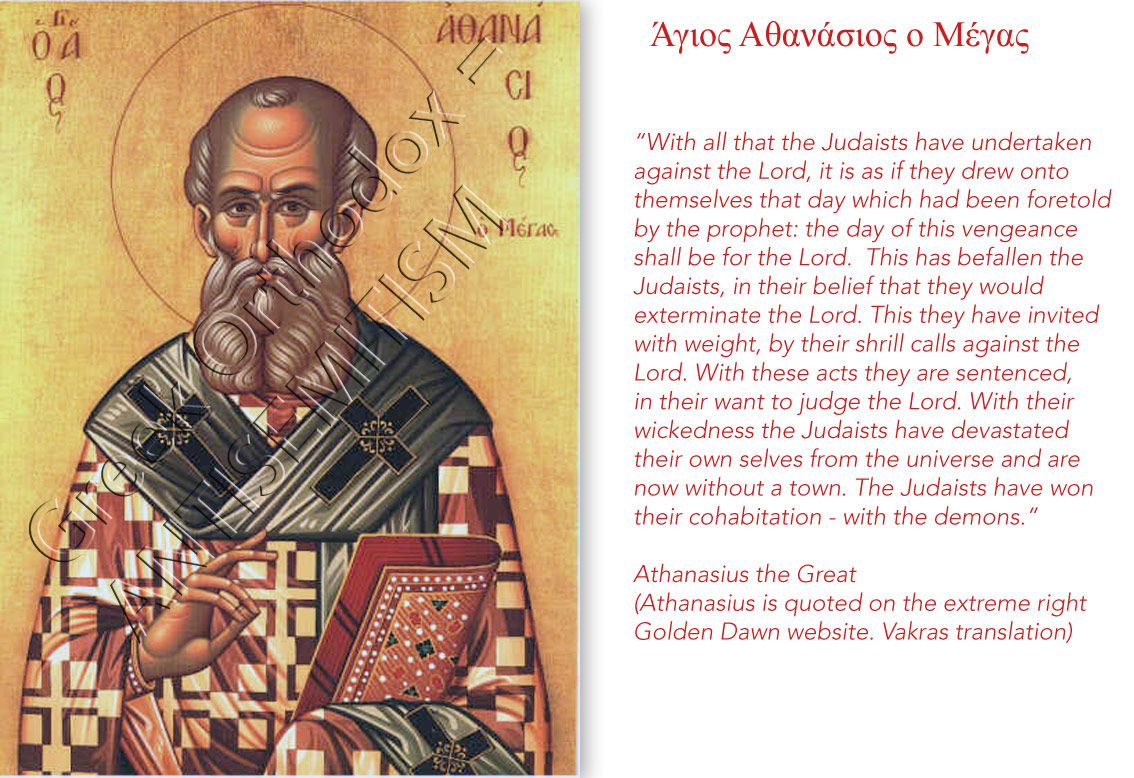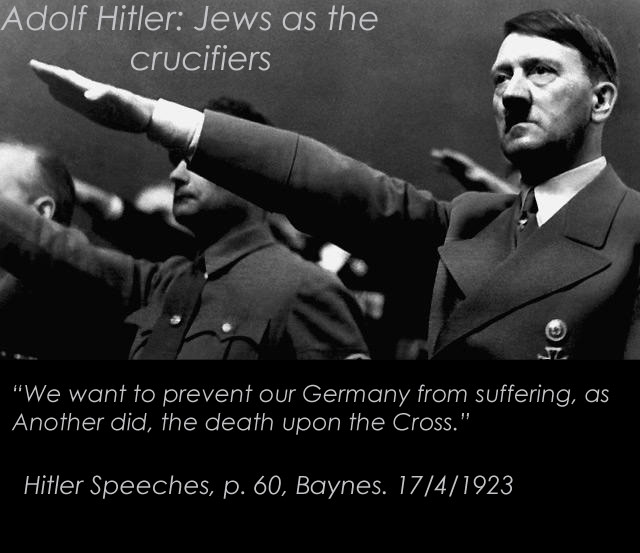 Cripps testified that he believed, for reasons that he could not explain, that the art of our 2009 exhibition could be "anti-Palestinian".
Cripps testified that he was "against the Jew's state" AND WHAT THE JEWS DO IN PALESTINE. Cripps identified not the state by its name, Israel, but identified the race of that state: Jewish as the cause of conflict.
Cripps testified having a "vague" recollection that suicide bombings were discussed.
The essay that accompanied attempting the destruction of the secular muse criticised the Koranic exhortation to wage suicide war:

"According to the Koran life is made attractive by god so that we desire not to die as it is intended by god as a test of our resolve to obey his edicts: only those of strong character will willingly forgo this attractive life to die waging war against unbelievers to demonstrate that they are true Muslims; the purpose of life is to wage war; the only way to guarantee ascent to heaven is to die while killing unbelievers". p. 25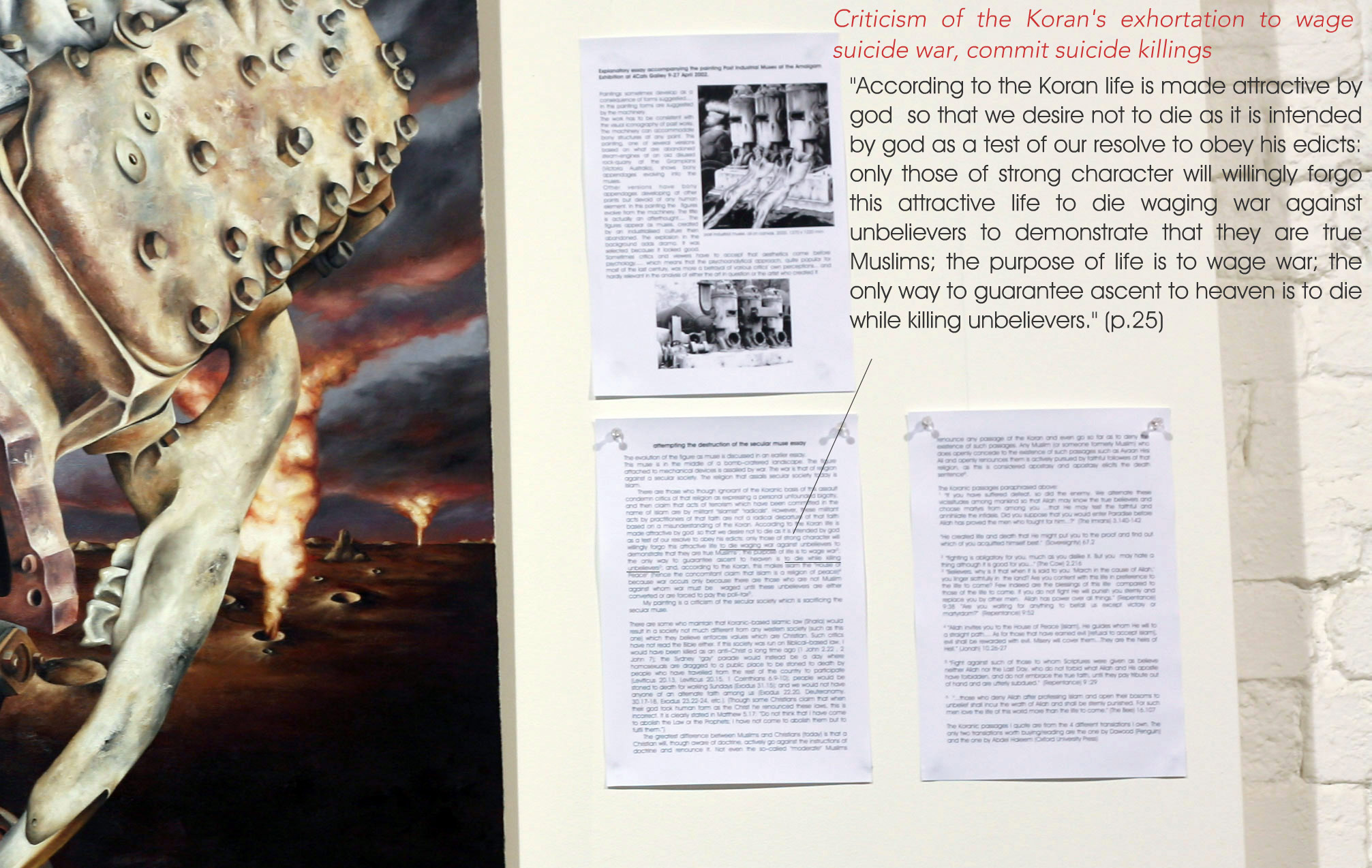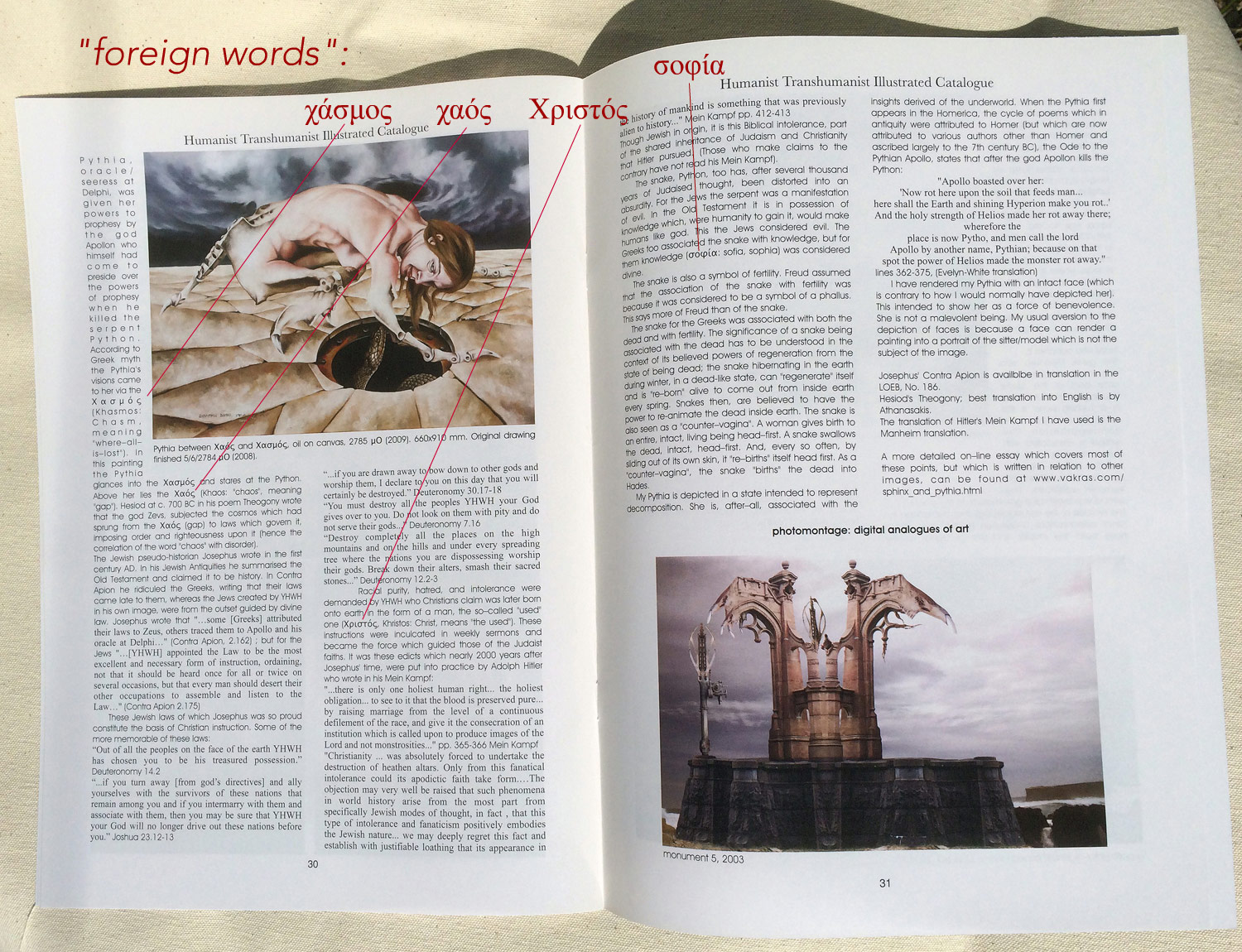 Cripps sued over being made aware of information that was already publically available.
The cause Cripps supported and continues to support, which was entirely unrelated to the exhibition, "Palestine", was a Nazi cause, that is known to have had Nazi origins. No financial penalty can ever alter this.
information in the public domain: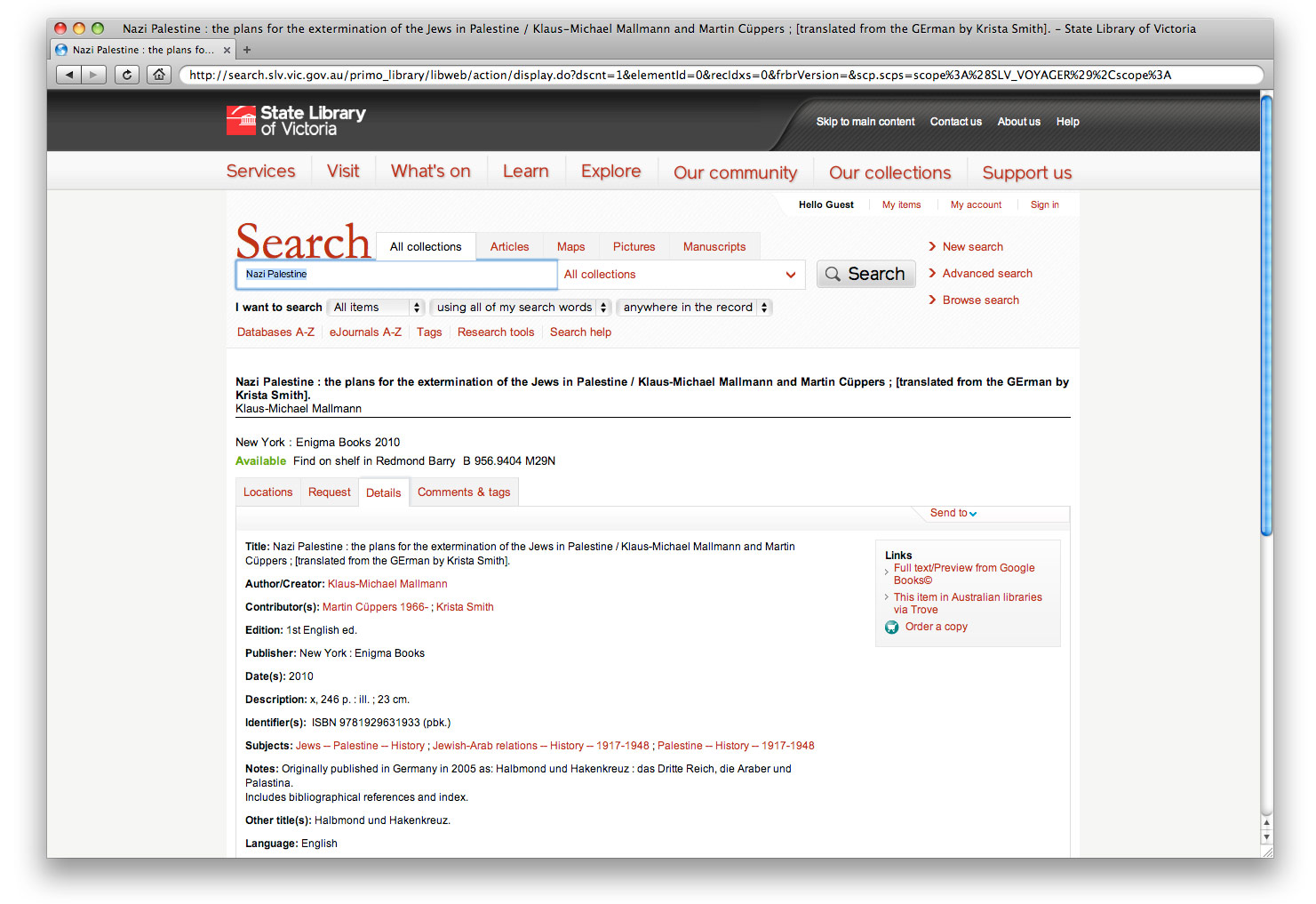 Above, NAZI PALESTINE, The Plans for the Extermination of the Jews in Palestine, Mallmann & Cüppers, can be purchased from the NYC Holocaust Museum:
http://www.ushmm.org/research/publications/academic-publications/full-list-of-academic-publications/nazi-palestine-the-plans-for-the-extermination-of-the-jews-of-palestine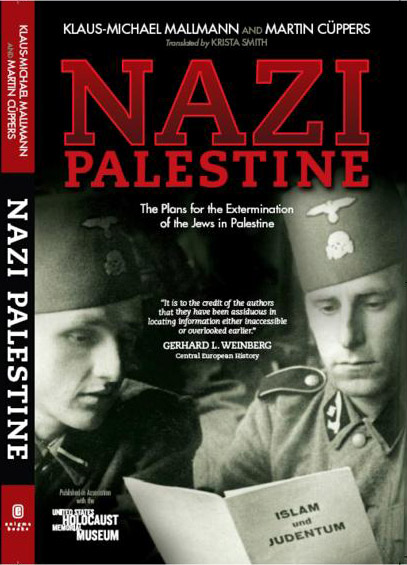 That the current conflict in "Palestine" has its origins with the Nazis is incontrovertible and widely written about.
Published by Yale University: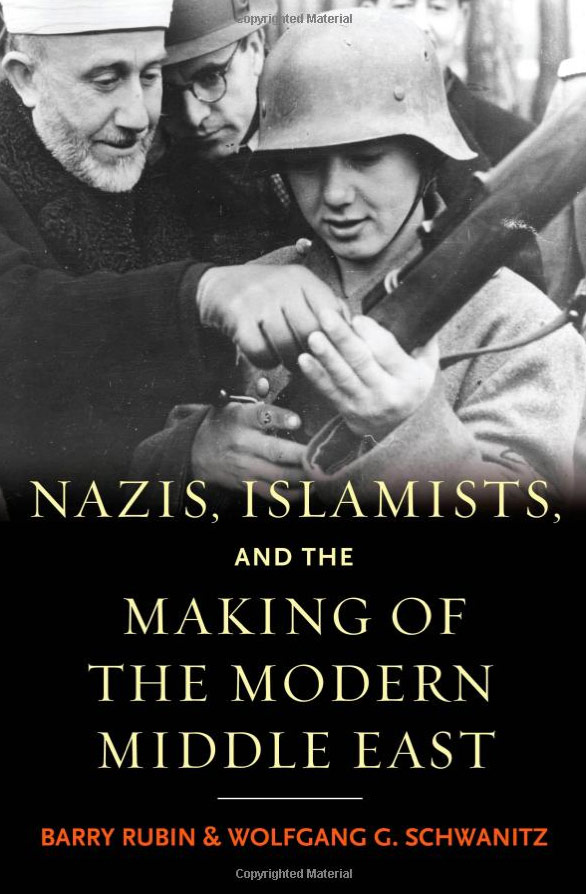 Nazis, Islamists, and the making of the modern Middle East, Rubin, Schwanitz
Published by Yale University: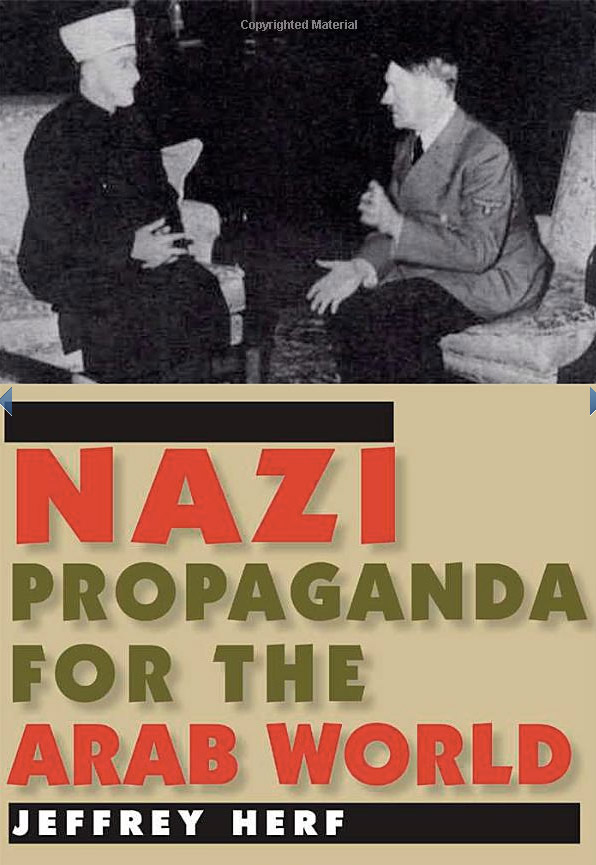 Nazi Propaganda for the Arab World, Herf
Arab language Nazi radio broadcasts during WW2 called for the genocide of the Jews of Palestine on Islamic grounds, Herf. My reference to Herf in court was redacted from the transcripts by the court. WHY?

Islam - the religion - remains the cause of war against the Jews of Palestine. And those who seek to blame Jews for conflict waged against them on religious grounds by Muslims are and will continue to be racist, irrespective of what Kyrou does to prohibit this being communicated or imparted: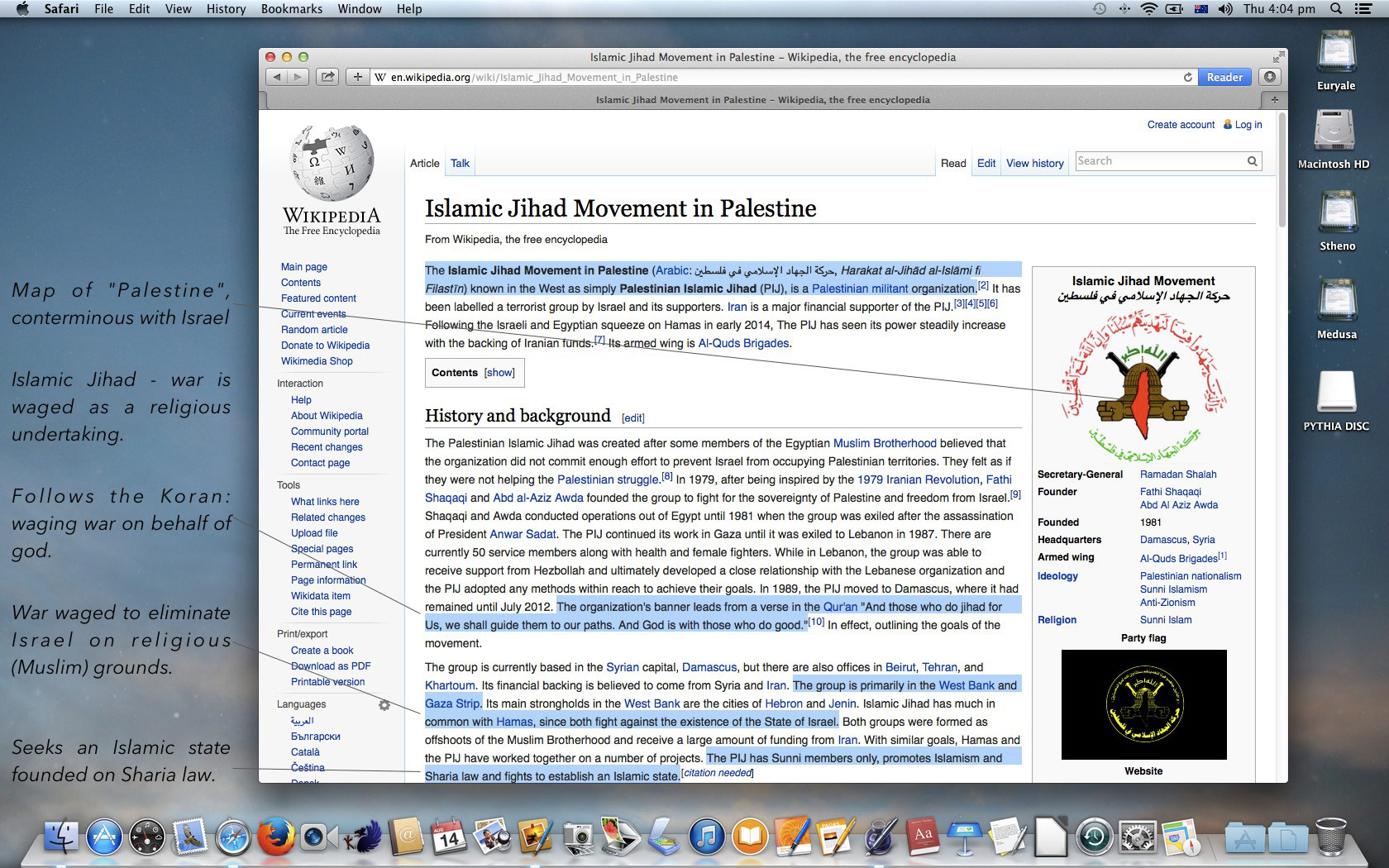 ---
Israeli author Dov Ivry writes about the case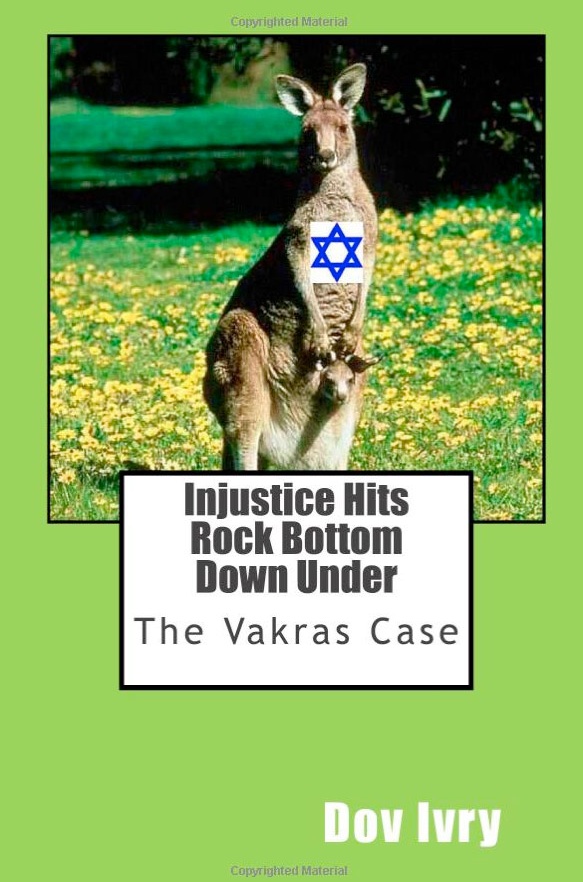 ---
---
HOW TO RULE AS A CHRISTIAN AGAINST AN ATHEIST
---
A belief
is not the equivalent to a logical corollary. And, a logical corollary is not "an opinion". Australia's judiciary conflate these concepts and deem them to be of the same meaning.

---